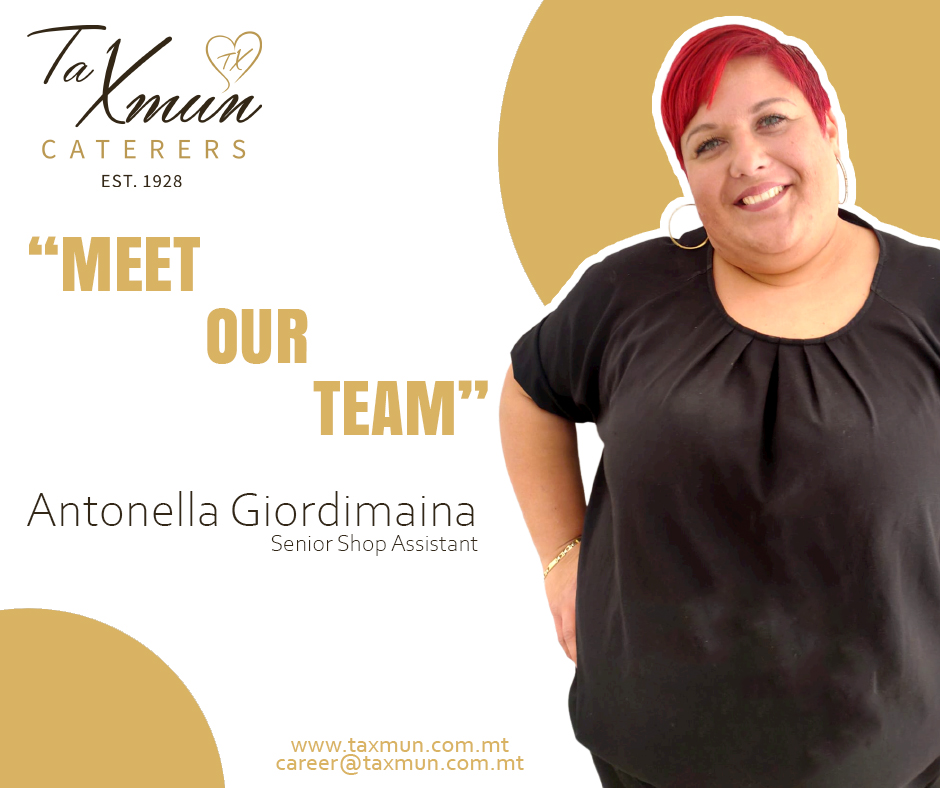 Antonella is one of our senior shop assistant at our outlet located in B'Kara and has been part of our team for 3 and a half years. She is a very cheerful person and this way she always lightens up the rest of the team's day. The work environment is what motivates her as she feels like she found her second family within the Ta' Xmun team. Her hobbies are making crafts and going to the beach.
What's your job title?
My job title is Senior Shop Assistant.
What sort of duties do you have at work?
My duty is to assist customers and ensure that they are happy with the service provided.
What's the most exciting part of your job? 
The most exciting part of my job is to see our customers coming back with positive feedback.
What's that something you find challenging about your work?
Something that I find challenging and yet rewarding is when clients come in with open queries about a particular event that they don't know from where to start. I assist them and help them through their query as much as I can and return with positive feedback and that they liked our food and pastries.
What motivates you at work?
The relationships I have with my colleagues and clients motivate me to do my best. I feel that I have found my second family within the company. 
What's your favourite Ta' Xmun Cake?
My favourite cake is the Strawberry Cheese Cake.
Sweet or savoury?
Both!!!
Who Inspires you?
I believe that from every person you can learn something.
Do you like traveling and what's the best place you've travelled to? 
I enjoy everywhere and anywhere as long i'm surrounded with good company. I'm super excited for my next holiday to Euro Disney Paris. 
Are you a sports fan? Who is your favourite team?
Very, walking to the sofa.. hahaha.
Do you have any hobbies?
Yes, my main hobbies are making crafts and going to the beach.
Are you a morning person or a night owl?
I am a morning person as I prefer to get things done earlier in the day.
What's your biggest fear?
My biggest fear is losing people that are close to me.
What is that one thing you are really bad at?
I'm really bad at speaking to someone who is crying as I might end up crying as well.
What is that one thing you're really good at?
I'm really good at making people laugh or making other people swear.. depending how you look at it.. haha.